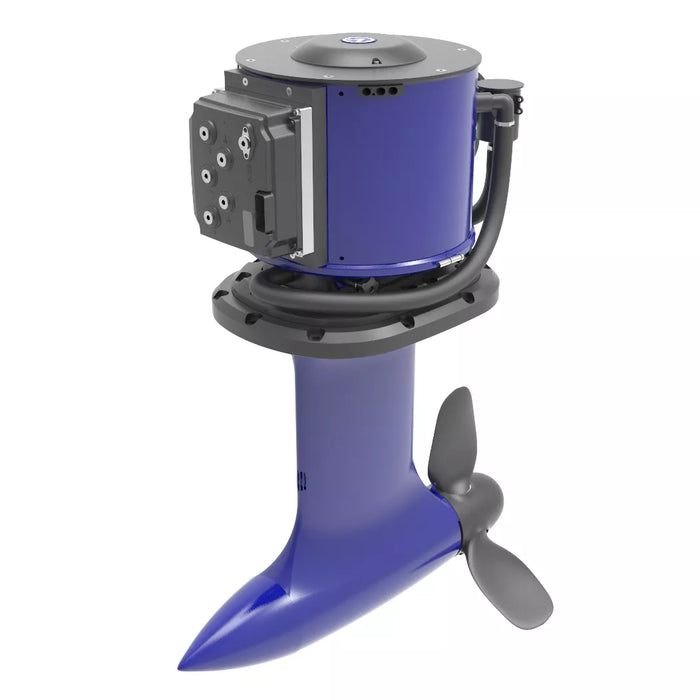 Oceanvolt Highpower ServoProp 25
Original price
$0.00 USD
-
Original price
$0.00 USD
The patented 48 V Oceanvolt HPSP 25 offers a remarkable combination, featuring a controllable pitch propeller and the market's highest power hydrogenerator. A unique characteristic of this HighPower ServoProp is the 360-degree propeller blade rotation, for an optimal energy output for both propulsion and electricity generation.
The HighPower ServoProp offers far better performance than conventional folding prop setups, boasting a controllable pitch propeller, specialized blade design, and a highly efficient drive. Its instant power and impressive nearly 5000 Newton static thrust in both forward and reverse directions provide superior boat control in challenging conditions.
The HPSP allows for flexible installation, with the propeller either facing forward or backward. Mounting the saildrive with the propeller facing inwards boosts efficiency for both hydrogeneration and propulsion. Whereas conventional saildrives are positioned with the propeller facing outwards, this decreases system efficiency.
The Oceanvolt Highpower ServoProp 25 has a compact and highly integrated design, as the motor controller, propeller blade control, and liquid cooling system are all integrated into the unit. Not only is it more lightweight than comparative combustion systems, but installation is made easier, since there is no need for additional seawater inlets or outlets, thus reducing risk, drag, and failure points. Furthermore, no exhaust or fuel systems are needed - just a few cables - simplifying planning and installation.
Estimated Shipping Widget will be displayed here! (with custom color)
Free Shipping over $49
Lithium Batteries & Oversize Items Flat Rate $149
60 Day Hassle Free Returns