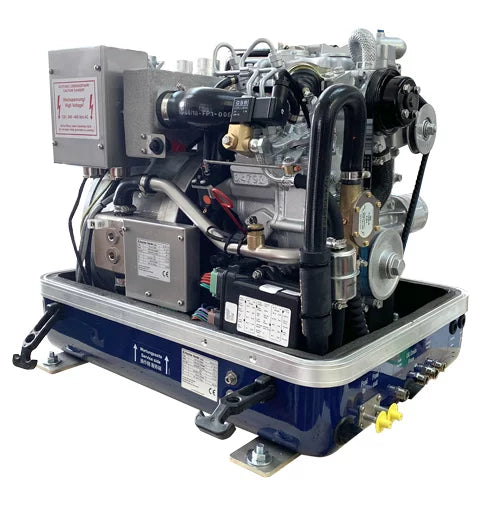 Fischer Panda Diesel Marine AC Generator 9 DP
Original price
$19,950.00 USD
-
Original price
$19,950.00 USD
$19,950.00 USD
-
$19,950.00 USD
Sale price
$19,950.00 USD
The Fischer Panda Diesel Marine AC Generator 9 DP is a powerful and reliable choice for marine power needs. Featuring a Kubota Z602 twin-cylinder diesel engine, this generator provides up to 75 amps at 120 volts, with a Voltage Control System (VCS) that stabilizes voltage within a range of plus/minus 3 volts. The Digital Panel (DP) also features a smart diagnostics system, making this an ideal choice for reliable power and ease of use.
The Panda 9 DP is perfect for larger sailboats and powerboats. It's lightweight, weighing only 365lbs, and produces a low noise rating of 54dBa @ 7 meters - making it an ideal choice for your next marine adventure.
This generator guarantees superior performance and reliability with its advanced digital control panel displaying extensive performance and diagnostic data. It strikes a perfect balance between weight, size, and noise, with a quiet operation. Safety shutdowns for all essential functions ensure secure operation, while VCS electronic governor provides excellent voltage stability. Powered by a robust twin cylinder Kubota diesel engine and direct driven fresh water-cooled Asynchronous Alternator, it is also ignition protected for gas boat applications. All this comes with a 5-year limited warranty and auto-start feature plus NMEA2000, remote control panel, sound enclosure, and remote fuel lift pump.
Estimated Shipping Widget will be displayed here! (with custom color)
Free Shipping over $49
Lithium Batteries & Oversize Items Flat Rate $149
60 Day Hassle Free Returns